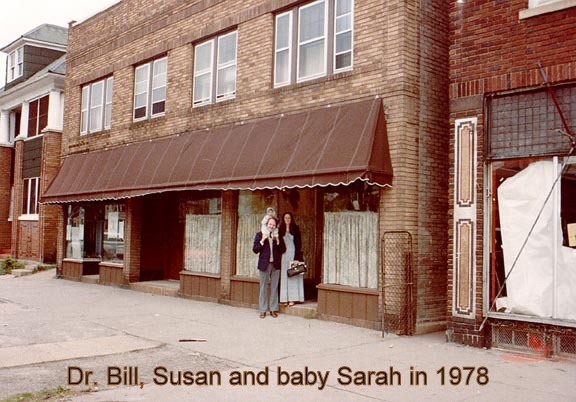 Our founder, Dr. Morehouse was called out of the corporate world of Kodak in 1977 with a heart for establishing a presence in the city for faith-based service through community oriented primary health care and youth outreach. In 1978, following a visionary blueprint (see Original Outline), his wife Susan and a team of people from his church and the broader community helped him open the Chapel Guidance Center on Arnett Boulevard in Rochester's west side where he began offering primary care to the under-served as part of a progressive vision, dream, and prayer. Not long afterwards the name was changed to His Branches, Inc. a trans-denominational 501(c)3 nonprofit organization which was written up in the local City West Newspaper.
The vision was of people from all walks of life being helped by gifted Christian doctors and nurses working with others who were living out their faith caring for those in need. The dream foresaw people living in communities where children could grow up in healthy families, play in safe neighborhoods, worship in vibrant churches, and learn in enriching schools. Together with Jesus, our prayer was and has always been "Thy Kingdom come, Thy will be done, on earth as it is in heaven!" Since then, His Branches has grown and become a thriving example of servant leadership and sacrifice in ministry for those who are less privileged in our community.
Around the same time, Teen Challenge opened a weekend youth center under our auspices that met in what is now our back conference area. Students from Elim Bible Institute and other local colleges canvassed the neighborhood on Saturday afternoons and then held a free coffee house with music, an open mike, and sharing. Many years later, the seeds of youth ministry planted in its early years would sprout for a while and bear fruit again in the form of Rochester Youth Outreach.
In the early 1980s a group of concerned citizens opened Rochester's first "crisis pregnancy center" in our building, right beside our primary care office and backing up into it for clinical support when needed. This grew and became Crisis Pregnancy Services, moved to larger facilities, and is now active in Brighton under the name CompassCare. Shortly after CompassCare moved out of our facility and into its new offices in Henrietta, we opened our own reproductive counseling services office, Embracing Options.
Our clinical outreach services have grown substantially since their early days, and we are now licensed to operate as a NYS and Federally Qualified Health Center under the name His Branches Health Services. One of our clinical outreach endeavors that lasted several years before being absorbed into St. Mary's Hospital and then dissolved, was the Martin Luther King Center on Troup Street. As you look at our Early Pictures, you'll see some taken at the King Center.
We're currently overseeing a main primary care office on Arnett Boulevard, Grace Family Medicine, and a satellite office, Joy Family Medicine, at the Gerhardt Neighborhood Outreach Center on the corner of Bay and Goodman Streets in Rochester's northeast quadrant, as well as supporting a network of reproductive counseling offices and reaching out with a host of community-building activities in the Greater Rochester area, as described on our HB-Community website.