Casting for Vision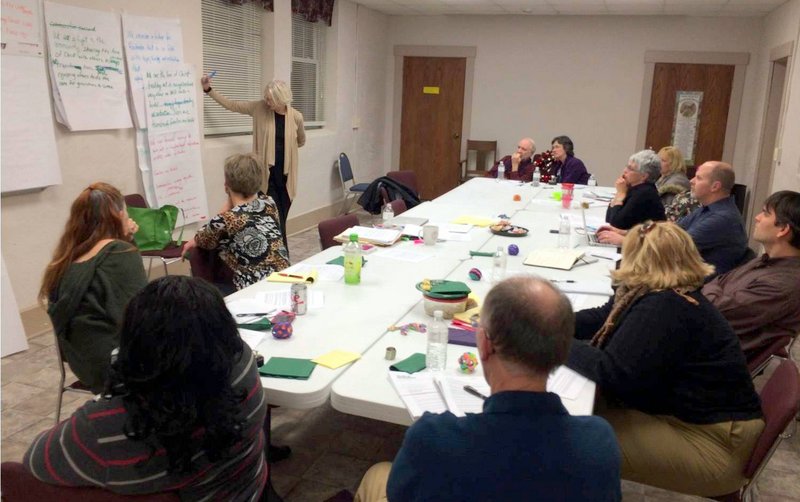 Guiding Team
Since Fall 2014 an integrated group of staff and board members has been meeting monthly for a 3-hour brainstorming session facilitated by Jan Thirlby to discern who we are, what hopes we share for the future, and how we are going to pursue them as an organization. What we've developed so far is a long-term vision for the future and some congruent long-range goals (known affectionately as Big Hairy Audacious Goals or BHAGs). Now we're moving into developing some closer-range 3-5 year goals that we can actively implement, measure, and refine.
Our Long-Term Vision
We look forward to a time when our community is brimming with God's love, where everyone feels a sense of belonging, safety, and well-being.
We will be leaders in the initiative that transforms our neighborhood through strong collaborative relationships.
We will occupy a position of influence with local governments.
Our services will reflect our Christian values, and will be trendsetting in the field of community oriented healthcare.
Our organizational model will be sustainable and reproducible.
Our contributions to the vitality of our community will be regarded nationally as a model for community health, and
Our model will spread widely across the globe.

Big, Hairy, Audacious Goals
Have a financial plan that is flexible, ensures our ability to innovate, expand our reach, and retain talent.
Develop a sustainable and reproducible organizational model, rooted in our values, focused on state-of-the-art services, and adaptable to community needs.
Build strategic alliances that establish us as leaders in the field of community well-being.
Integrate faith in ALL we do bringing each person we touch into contact with the Living God.
Click here for a presentation of our Vision and Goals by Chris Pollock, Board Chair, at our 2015 Banquet of Blessing.
Where we are now
Roll over image for glimpse of one potential future: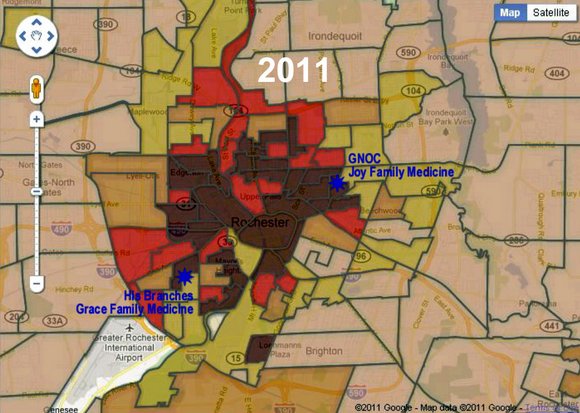 Click on map for Democrat & Chronicle article about Poverty in Rochester.