This is the place to read our latest news articles, then sign up for an email subscription using the box in the side column – or find us on Facebook!

Click here
(or on the masthead below) to view, read, and print a PDF version of our Spring 2017 
Grapevine
, our most recently published semiannual newsletter.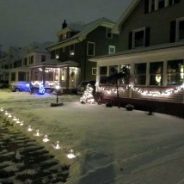 Arnett Branch Library The first event will be on January 19, 2017 from 12-1 pm at Arnett Library, kicking off with a tribute to King with guest speaker Monroe County Legislator LaShay Harris, the 19th Ward Youth Choir, poetry by Eric Hines, and spoken word drama by the MIBG group coordinated by Robert Ricks. The program promises to be an inspiring event! U of R Medical Center On Monday, January 21 at 11:30am to 12:30pm the 38th Annual Martin Luther King Jr. Celebration in Poetry, Dance, and Song will be held at the U of R School of Medicine...
read more