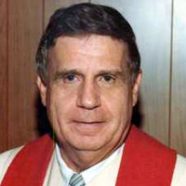 Rev. G. Robert Geyer, D Min
slipped into the arms of his Savior Thursday, January 25, 2018. He was 90 years old and served as the pastor of Brighton Presbyterian Church from 1979 to 1997 during the Charismatic Renewal.
Pastor Bob was the husband of our long-term Board Member, Ann Geyer, a strong supporter of His Branches, and the former pastor of our Founder, Dr. Bill Morehouse,
A graduate of Middletown High School, Lebanon Valley College and Pittsburgh Theological Seminary in Pennsylvania, Pastor Bob also earned his Master's in Counseling from Long Island University and his doctorate from Colgate Rochester Divinity School in Rochester. He served in the US Army from 1947 to 1950.
Dr. Geyer was predeceased by his two sisters, Phoebe Etter and Janet Snavely. He will be missed by his wife of 61 years, Ann (Lucas), his daughters Becky (Ed) Bonner, Joanna Minney, and Susanna Jacobson, four grandchildren, Sally, Emily, Robert and Mary Ann, four great grandchildren, Connor, Shawn, Grace and Bethany, many beloved nieces and nephews and old and new friends. He had served pastorates in Mingo Junction, Shelby and Fremont, Ohio and in Greenlawn, Long Island.
Pastor Bob was an evangelist, and was called to encourage everyone he met to trust in his Savior. The memorial service will be held at Brighton Presbyterian Church, 1775 East Avenue, February 3rd at 3pm. A time of fellowship will follow the service in lieu of visiting hours.