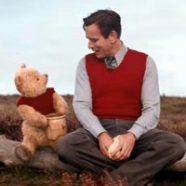 Pooh is Back!
Here's a summer movie the whole family can enjoy:
In the heartwarming live action adventure "Disney's Christopher Robin," the young boy who loved embarking on adventures in the Hundred Acre Wood with a band of spirited and lovable stuffed animals, has grown up and lost his way.
Now it is up to his childhood friends to venture into our world and help Christopher Robin remember the loving and playful boy who is still inside.
Click here for local showtimes
Quotes:
Winnie The Pooh: Doing nothing often leads to the very best kind of something.
Winnie The Pooh: People say nothing is impossible, but I do nothing every day.
Christopher Robin: I wonder which way.
Winnie The Pooh: I always get to where I'm going by walking away from where I've been.
Christopher Robin: Do you?
Winnie The Pooh: That's the way I do it.
Winnie The Pooh: It's called "Say What You See". You, first, Eeyore.
Eeyore: Disgrace. Shame. Humiliation.
Winnie The Pooh: Well, that's one way to play it.
Winnie The Pooh: What day is it?
Christopher Robin: It's today.
Winnie The Pooh: My favorite day.
"This takeoff on the children's-book series refreshingly balances sweet and bitter tones; Pooh's innocence irritates Christopher before it redeems him, and Madeline undertakes a bold adventure to gain her father's attention." – Review by Richard Brody in The New Yorker