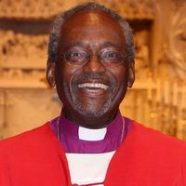 The one lasting message of the royal wedding
Long after the glossy memories of the wedding of Prince Harry and Meghan Markle have faded, people will recall the sermon by Bishop Michael Curry on the power of love to transform the world.
It was a stunner, unexpected by the millions who were watching — and probably by most of those in the chapel that day!
Curry's remarks, which lasted all of 14 minutes, brought us back to what matters as Christians, the idea that the essential teaching of Jesus has the power to transform the world.
They represent the future of Christian thinking, envisioning a time when we put aside petty hatreds, when we stop thinking about refugees as enemies, when we embrace our friends at home and abroad as neighbors grounded in the love of God, which only becomes visible when we act in a loving manner, treating our neighbors as we ourselves would like to be treated.
Click here to read Jay Parini's opinion piece, published yesterday on CNN.