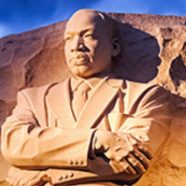 Today, April 4, marks the 50th anniversary of the assassination of civil rights leader Martin Luther King Jr., and the Board, staff, and supporters of His Branches will join others in our community and across the nation in paying tribute.
The National Civil Rights Museum in Memphis, built around the hotel where King was shot, is asking that bells toll 39 times to honor the number of years King lived and pay homage to his legacy. In our neighborhood the bells will start ringing at the U of R Hopeman Memorial Carillon in the Rush Rhees Library tower at 7:05 pm to symbolize when the news first rippled across the world.
Please join us in honoring the inspired witness, courage, and legacy of this powerfully humble man of God.