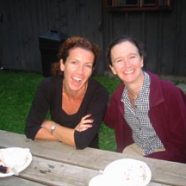 On a warm, sunny day
earlier this month Grace Family Medicine held its annual staff picnic at the Morehouse family property in Steuben County, and we all had a great time.
The weather cooperated wonderfully; the swimming was very refreshing; and the s'mores were as sticky-sweet as ever!
Here's the twilight gang cooking out and loading up marshmallows for making s'mores…
Question:
Did we really come this far out into the country without being eaten by wild animals?